Hi my lovelies,
I sincerely apologize for not being a good blogger. I've been MIA for a month...sorry! Been very busy w thesis and life in general. Therefore, I wanted to get back into the game with this tag, that's been going around: YouTube made me do it!
If I have to be honest most of my beauty buys in the last 18 months have been YouTube inspired. Here are the main ones:
1: Revlon ColorStay Foundation! I had seen so many beauty gurus talking about this little darling. Perfect coverage, flawless finish and cheaper than MACs foundation. I bought my first one back in September 2009 and have been using them ever since. My shade, if anyone cares is - I'm also a NC40-42 in MAC. I know I've seen DulceCandy87 use this. Fafinette3x also loved this. Well almost everyone I saw out there did!
2: Nude Attitude - Revlon matte lipstick. Everyone went crazy for this lipstick during the summer/fall of 2009. I bought it and have to say it's a bit too light for me. Makes me look a bit washed out on its own! However, if I match it with another more rosy colored lipstick or a pink or golden lipgloss then it gives me a perfect nude lip! Don't remember who talked about this first. I do now I've seen fafinette3x talk about it and possibly also lollipop26.
3: ELF products. I bought a lot from the ELF - eyeslipsface.com website when I lived in the US. It so cheap - 1 dollar to 5 dollars pr. product. The 1 dollar items are not that good, however their eyeshadow brush for a dollar is great and their Studio Line, where I got lipsticks, loads of brushes and lipgloss for 3 dollars. I think I even got it all on sale 50% off so it was a great haul! ELF products were some of the first I became familiar with after I began watching beauty vids back in the summer of 2008. I saw an ELF haul by fafinette3x - and everyone else out there - back in 2008. JuicyStar07 also did an ELF haul back when I was just getting into YouTube.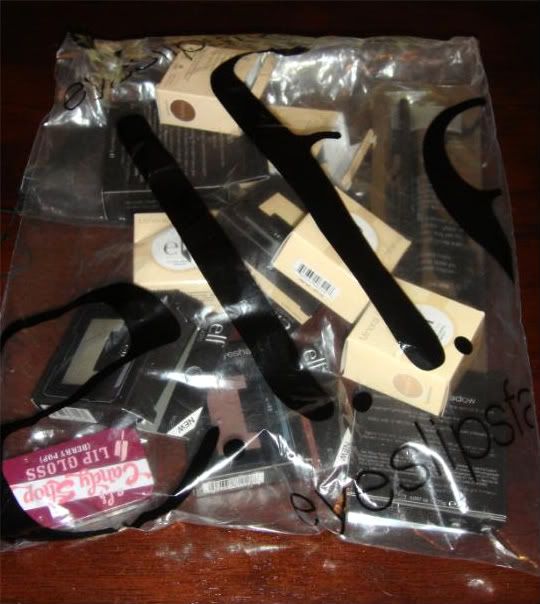 4: Sigma! I have fallen in love with Sigma brushes. The same quality as MAC brushes but at half the price! I have a lot of their face brushes and I love them! If you're looking for great quality brushes then buy Sigma brushes! They are so pro, very soft and
easy to use! I remember seeing a review from Makeupbytiffanyd on Sigma brushes before everyone had them!
5: CoverGirl Lash Blast. Ever since I started using this mascara, which was the first thing YouTube made me buy, has changed my life! That is quite a statement. Before this, I could never get my eyelashes to stay curled all day long and because I'm Korean my eyelashes would go back to their original state during the day - straight out- and my mascara would always smudge. Well never again! I am in love with this and have been using it for almost two years. It gives me a false eyelash effect, if I apply more than three layers! I think I saw Xteener talk about this one first.
6: Face foundation primer. I never used to use a primer on my face before foundation. I always do now. The foundation goes on a lot smoother, it lasts all day and gives me a flawless finish. I used the Rimmel Fix & Perfect for a while but am now using the Laura Mercier Oil Free Foundation Primer. I love this. It's so light and moisturizer-like. The Rimmel one is more like the typical primers with a silicone base feel. I like the smoothness of the Laura Mercier a lot better. It was Kandee Johnson who recommended the LM-primer!
7: TRESEmmé Heat Tamer Spray. I love this thing. I use it in my damp hair before I blow dry it. It protects my hair from the heat. Leaves it more shiny and softer and the scent is absolutely lovely! Been in love with this since I saw Xteeener using it.
8: MAC Mineralized Skin Finish Natural. A lot of people have been using this to set their make up, as a sheer foundation with light coverage but oh so silky smooth finish. I like how it is less powdery, more natural - hence the name - and leaves my skin looking soft and touchable! I've been using the MAC Studio Fix powder and it seems almost too heavy on me now! I don't remember who I saw with this product specifically but almost every beauty guru out there uses it or has used it in videos.
9: L'Oreal Carbon Black Lineur Intense. I was never good at applying liquid liner - before YouTube that is. I've become a lot better at it since watching loads of videos and everyone raves about this liner. It is pretty easy to use, once you get the hang of it and it's the perfect ink black! Love it!
Those are just some of the great finds I've gotten out of YouTube. So what are you waiting for? Go check out the beauty-vids yourself and get inspiration for your next shopping spree!
You can check out
my favorite gurus here
for more inspiration!
xoxo
msbeautyblogger
(photos: wonderfulwortelworld.files.wordpress.com, www.polyvore.com, 2.bp.blogspot.com, www.sigmamakeup.com, 1.bp.blogspot.com, slimages.macys.com, www.makeupandbeautyblog.com, files.hfmus.com, i90.photobucket.com)