Copyright by Richie Nickel
Hi my lovelies,
So when I talked about my favorites here on YouTube I did not include this next internet wonder! I did not do that because I wanted to introduce him separately!
His name is Richie Nickel. He is from the UK and he is not just any regular guy! To me Richie truly is an International Fashionista socialite and style icon from London. Immortalized for Vogue by fashion photographer Mario Testino. Richie has his very own YouTube channel where mere fans like myself can follow his musings, his great hauls (often including MAC make up, LV and other goodies.)
What I love about Richie, besides our common love for MAC and Balenciaga bags, is his darling sweet personality and his great sense of style!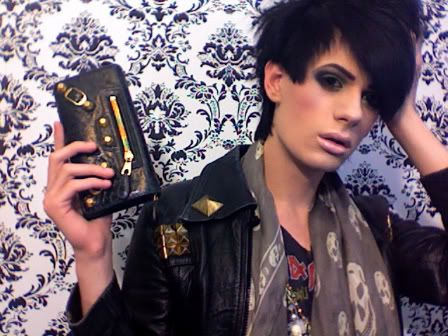 If you want to check out some of Richies videos, then I suggest taking a look at these:
WSITN: Sliver Smoke Tutorial
An amazing eye make up tutorial - Typical Nickel!:)
WSITN: What's Inside My Wardrobe / Closet
A look at what Richie styles himself w;)
WSITN: My New Balenciaga Bag
Richie's favorite place in the world and what he got from there;) I just love it!
WSITN: Whats In My Bag
Take a look at what Richie carries around;) One of the most done tag-videos on YouTube.
WSITN: CCO MAC HAUL AND FENDI
Richie's first trip to a CCO - Cosmetic Company Store.
WSITN: Makeup Collection / Storage
Richie's highly requested, highly anticipated make up collection;)
WSITN: Lush Haul
- We also share the love for Lush!
Hope you will love WhatStyleIsToNickel as well...
xoxo
msbeautyblogger