Hi all my lovelies,
January is almost over and this morning I felt like rounding up my January favorites for you! So here they are:
An old favorite of mine has returned to my everyday make-up routine. It's the Cover Girl Professional Eye Enhancers One Kit Shadow in Champagne. I use it a lot in the tear duct area of my eye to brighten up my entire look.
I've been into very neutral looks for most of January and for my lips, I've really been loving MAC's Viva Glam V lipstick. It's a lustre formular, which means it's more of a sheen of color rather than a full coverage lipstick. I've been using it a lot with NYX round lip gloss in either Whipped or Real Nude. Also every cent of the selling price of my Viva Glam Lipstick is donated to the M·A·C AIDS Fund to support men, women, and children living with HIV and AIDS.
Everyday after I apply my foundation before I begin doing the rest of my make up, I apply Carmex to my lips to prep them for lipstick/gloss application. I simply love Carmex! Especially, the cherry flavored one!
My January have been busy and has not allowed me a lot of time for make up in the morning. So I've come up with this combo to cut down on the steps for my cheek/contouring part. And I've come to love the two products I've been using instead of blush:
My ELF Warm Bronzer has four different colors, which are great all swirled together to give a shimmery finish. However, I only use the blush toned one lightly as a blush and the lightest color as a highlighter on the top of my cheekbones.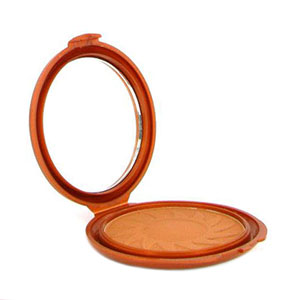 Underneath the ELF warm bronzer, I've been using the NYC bronzing face powder in Sunny. I sweep it across my cheekbones for definition and across my temples for sculpting. Takes my 20 seconds and the the ELF on top and I'm done with cheeks and contouring!
I've been loving Lush as you all know and almost every day in January I've been using these two products:
Rock Star Soap - it's so sweet and leaves me smelling like bubble gum and sweet candy for hours! I love the smell of it, and it's to the point where I don't feel right, if the bathroom does not smell like Rock Star:)
In the shower, I am obsessed with Sweetie Pie Shower Jelly. The fresh fruity scent and softest best smelling lather makes every shower I take luxurious. I mean every girl needs a bit of pampering, right!
At night, it's not enought to just wash your face to get rid of your make up. You have to remove your make up - eye and face before you wash. I use my favorite Matas eye make up remover for water proof mascara to remove my eye make up. It's the only one that does the trick, since I use quite a bit of Cover Girl Last Blast Mascara - and it's pretty much stuck to my lashes! Afterwards, I use my new favorite in expensive Huggies Pure Baby wipes to take of the remaining make up, foundation, blush, etc.
So these were my favorites for the month of January 2010!
xoxo
msbeautyblogger
(photos:
amazon.com
,
americanrx.com
,
redbookmag.com
,
mycarmex.com
,
lollipop26writes.com
,
3.bp.blogspot.com
,
sklepy-baby.pl
)